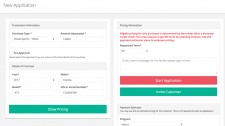 Philadelphia, PA, February 1, 2017 (Newswire.com) - LoanStar Technologies has deployed version 2.0 of the MerchantLinQ platform.  This major release enables community banks and credit unions to connect to dealers that finance titled vehicles and equipment.  Additionally, in this release, lenders may price each deal to risk with the new dealer focused tools. Another new feature unveiled enables real-time two-way messaging between merchants and bank staff, thereby making the entire process more efficient.
LoanStar member lenders are now able to compete in many under-served verticals, including recreational vehicles, boats, powersports, and equipment, which provide higher yields than indirect auto loans.  The MerchantLinQ platform now connects lenders to dealers in their local markets.  Local service with cutting edge, easy to use technology is a winning combination for both the dealer and the local financial institution.
"The addition of the non-auto vehicle verticals allow our lenders the option of more diversity in their lending offering, while giving the dealers a tool-set unavailable today through their existing providers," said Andrew Turner, CEO of LoanStar Technologies. "Our goal is to allow community banks and credit unions to provide a best-in-class tool-set to the dealers, offering financing options to their customers, and ultimately simplifying their marketing initiatives and transaction flow."
About LoanStar Technologies
LoanStar Technologies is a Philadelphia-based FinTech company that enables banks to create point-of-sale consumer loans.  Using their proprietary MerchantLinQ platform, LoanStar has created a streamlined, technology-driven system to quickly and easily create loans as a consumer-friendly alternative to high-interest white label credit cards.
Source: LoanStar Technologies
Share: